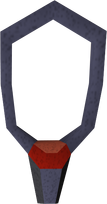 An 
Amulet of Fury
 is an onyx gem that has been used with a gold bar. It is highly popular and well-known for its high damage bonuses. Although it is surpassed in individual combat types by other amulets such as the Saradomin's amulets as well as their upgraded counterparts, the amulet of fury has the highest uniform bonuses for an amulet in the game.
Ad blocker interference detected!
Wikia is a free-to-use site that makes money from advertising. We have a modified experience for viewers using ad blockers

Wikia is not accessible if you've made further modifications. Remove the custom ad blocker rule(s) and the page will load as expected.